Work on the Move 2 - Published by the IFMA Foundation
Work on the Move 2 is the follow-up to the well-received publication Work on the Move which was published by the IFMA Foundation in 2011. This second edition is the collaborative effort that brings together global workplace experts to analyse how work is changing, the impact it's having on the workplace and how facility professionals can respond. The book provides facility professionals with tools that will allow them to become more strategic leaders in the ongoing workplace revolution.
Request a digital copy of the book by filling out the form on the right. You can also request the Work on the Move 2 webinar.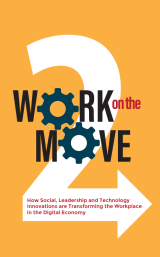 Webinar: Work on the Move 2
Watch the webinar covering the technologies discussed in Work on the Move 2. It is presented by authors of the book.
Click here to watch the webinar