What is a Computerised Maintenance Management System (CMMS)?
A Computerised Maintenance Management System (CMMS) is software that enables real estate owners and service providers to operate and maintain their buildings and technical assets in an efficient, cost effective, and compliant way. Benefits of CMMS software include forecasting, planning, and evaluating any type of maintenance work, either contracted or delivered by internal maintenance staff.
CMMS - what you need to know
A Computerised Maintenance Management System (CMMS) ensures a timely execution of maintenance work with objective asset condition assessments. Once the actual condition of an asset is assessed and scored, a CMMS automatically calculates and schedules the required maintenance. Extensive maintenance libraries of activities, deterioration curves, and cost catalogues feed the CMMS software with data and intelligence to ensure just-in-time maintenance execution.
Due to the complexity of maintenance legislation, execution of maintenance work needs to be planned, monitored, and documented with great care. A CMMS supports maintenance planners, engineers, and supervisors with tools and technology that ensure streamlined and compliant execution of work within a robust maintenance management system.
Explore our White Paper – 'Planon named a worldwide 'Leader' in CMMS' to:
Read what the IDC MarketScape defines as the 3 critical steps organisations should take to choose the right CMMS
Access 20+ scoping questions to help you define your organisational strategy and needs before choosing a CMMS
Learn how your organisation's strategy and goals can be supported by Planon's CMMS and future-proof strategy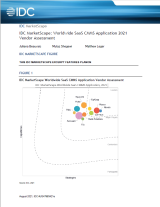 Download a free copy of the white paper by filling out the form on this page.
Request 'Planon named a worldwide 'Leader' in CMMS' white paper
Learn More about Computerised Maintenance Management System