Computer Aided Facility Management (CAFM) software enables Facility Managers to plan, execute and monitor all activities involved in reactive and planned preventative maintenance, space and move management, asset management, operational facility services, room reservations and other customer services. Recently, CAFM software has experienced major developments in both functionality and technology, making it that much more valuable for Facility Managers.
CAFM - what you need to know
The start of CAFM
The first generation facility management systems were known as CAFM. Computerized Maintenance Management System (CMMS), and Facility Management Information System (FMIS) were also commonly used terms. Although they were considered integrated, most of these systems tended to focus on specific areas of facility management, including maintenance management and space management. Some of the first generation systems with space management even provided integration with AutoCad on a basic level.
Regardless of their initial limitations, users were still able to derive benefits from early generation CAFM systems. Structured and centralized data and processes led, for example, to cost reduction and improved customer satisfaction - but integrated facility management solutions were still in their infancy. Over the recent years, the professionalization of facility management and corporate real estate management, along with rapid innovation in technology ultimately helped to accelerate the growth of these systems.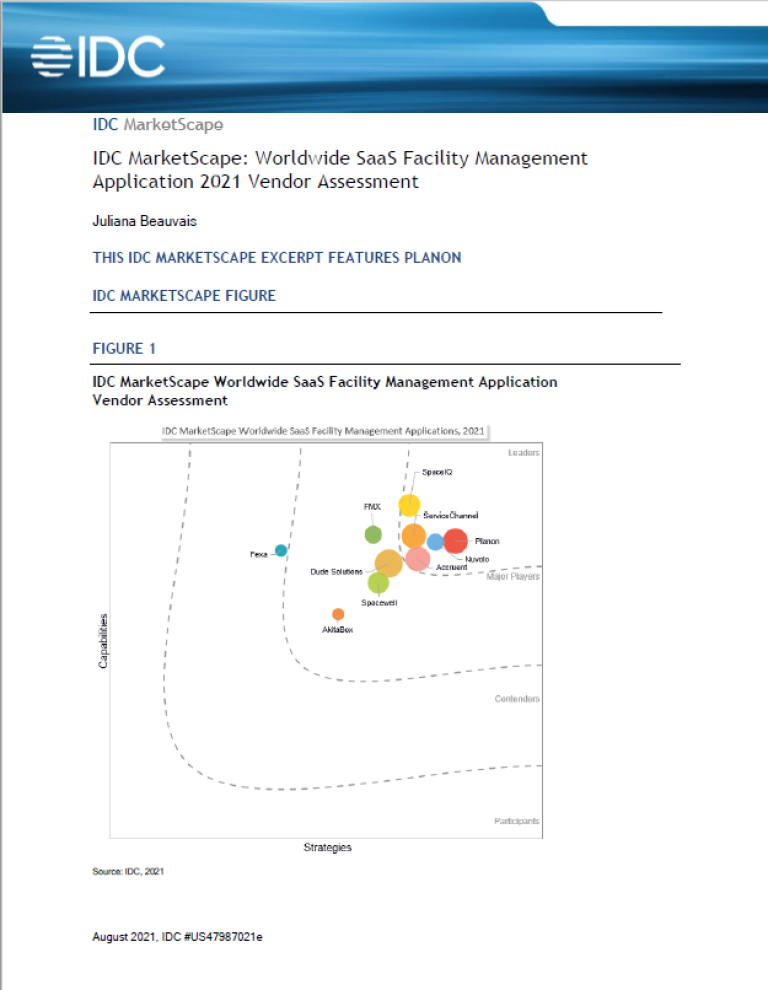 Explore our White Paper – 'Planon named a worldwide 'Leader' in SaaS Facility Management Applications' to:
Read what the IDC MarketScape defines as the 3 critical steps organizations should take to choose the right integrated facilities management solution
Access 20+ scoping questions to help you define your organizational strategy and needs before choosing a SaaS Facility Management solution
Learn how your organization's strategy and goals can be supported by Planon's SaaS facility management solution and future-proof strategy
Download a free copy of the white paper by filling out the form on this page.


Request 'Planon named a worldwide 'Leader' in SaaS Facility Management Applications' white paper
Learn more about Computer Aided Facility Management System