Planon Asset & Maintenance Management is one of the five solutions in Planon's Integrated Workplace Management Solution (IWMS): Planon Universe for Corporate Real Estate and Facility Managers.
The Planon Asset & Maintenance Management solution supports you in keeping your buildings and assets in the required technical and functional condition to achieve your company's goals. This solution collects the relevant asset information and maintenance data for all your buildings in one central database, allowing you to eliminate local administration and increase control of costs, planning and execution of maintenance work. By controlling multiple maintenance processes including reactive, planned preventive and just-in-time maintenance, you can constantly improve the cost efficiency and effect of the maintenance efforts for your organisation. The broad support for work execution processes and Health & Safety procedures makes this solution highly valuable for owners, tenants, internal maintenance departments, and commercial service providers.
---
Structure and maintain data

With the Planon Asset & Maintenance Management solution you can register all relevant asset information, maintenance activity libraries, maintenance documentations, health & safety checklists, and supplier information within a single integrated database.
Ready to use processes

The Planon Asset & Maintenance Management solution supports all relevant processes to budget, plan, execute, monitor, and evaluate any type of maintenance activity on any type of asset.
Valuable management information
The Planon Asset & Maintenance Management solution includes a wide range of standardised and ready to use reports and analyses for different users and stakeholders.
---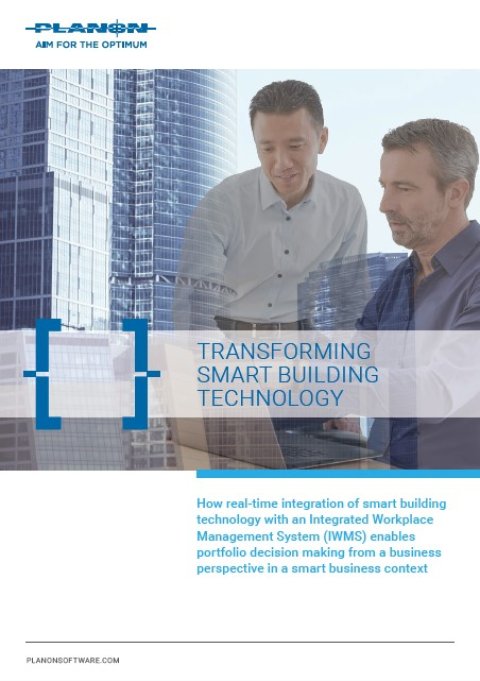 Explore our White Paper – 'Transforming Smart Building Technology' to learn more about:
What a smart building is.
Smart building technology and its data.
How to make smart portfolio decisions and act on the right things.
Download a free copy of the white paper by filling out the form on the right-hand side of this page.
---
Request white paper


Learn more about Asset & Maintenance Management