20 October 2021 – Planon and the IFMA Foundation have released a new edition of Work on the Move, titled 'Building Better Workplaces after the Pandemic'. Work on the Move 3 (WOTM3) explores the expanding role of facility management (FM) in addition to the leadership challenges and opportunities associated with delivering effective workplaces post-pandemic.
WOTM3 is the latest volume in a series of ground-breaking books that focus on the evolving world of work, workplace strategy, and the convergence of people, technology and space. As in the previous, well-received volumes, Erik Jaspers, Planon's Director of Global Strategy and Innovation shares his subject matter expertise and insights in this publication.
In co-authorship with IFMA Fellow Michael Schley, Jaspers discusses how the fast pace of technology innovations in IT, combined with the impacts of the pandemic, is accelerating the transformation of the workplace. The authors shed light on how – moving forward – technology, data and the prudent use of artificial intelligence can improve workplace effectiveness and end-user experience, supporting real estate (RE) and FM leaders in meeting their financial, health and safety, sustainability and compliance objectives.
Pierre Guelen, CEO of Planon comments, 'As a founding father of the Work on the Move initiative by IFMA Foundation, we feel privileged to have again been given the opportunity to collaborate on this important publication for the FM community and beyond. The definition of the workplace is changing rapidly, but while this presents RE and FM leaders with significant challenges, technology today offers many exciting opportunities to respond. This publication provides guidance on how to create an inspiring, collaborative, sustainable and effective work environment, integrating technology in positive ways around the workplace of today and tomorrow.'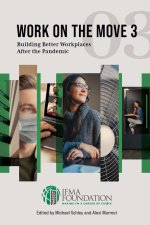 WOTM3 is available for purchase at https://foundation.ifma.org/news/publications/.