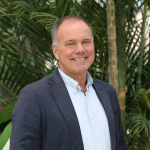 Marcel Groenenboom
Chief Commercial Officer (CCO)
In his role as Chief Commercial Officer (CCO), Marcel is responsible for Planon's global sales activities. He is also responsible for the business areas EMEA West, Building Management, Asia, Australia, New Zealand and for the department of Global Learning.
Get in touch
Prior to joining Planon, Marcel worked in various management positions at HP Netherlands, followed by more than nine years at SAP Netherlands, five of which as a member of the management team in the role of Sales Director and Director Ecosystem & Channels. Marcel also held various other management positions at other companies.
Marcel completed his studies in Engineering Management, specialising in Industrial Marketing and Information Sciences, at the University of Twente.