Benefits of real-time integration of smart building technology with an IWMS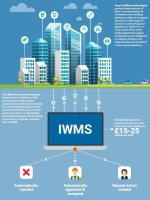 Facility managers, asset managers, and property portfolio directors will always need to balance limited budgets and resources with business demands to operate and maintain their building portfolio during its lifecycle. Making the wrong decisions here can lead to high financial risks and costs, as well as reduced occupant comfort and wellbeing. To overcome this challenge and reduce its impact, many organisations have shifted their maintenance regimes from reactive maintenance towards predictive maintenance.
Smart building platforms include mechanisms and intelligence to interpret, analyse and diagnose building data and transform it into recommendations. These recommendations include suggested actions that could be or need to be taken to prevent asset failure, reduced building performance, excessive energy consumption, or deteriorating climate conditions.
This infographic shows the value of using smart building technology to transition to a predictive maintenance regime, as well as the role of an IWMS to improve the performance of both buildings and business by providing better alignment between your portfolio strategy and its technical performance and needs.