Planon Named a 'Leader' for Education Maintenance & Facility Management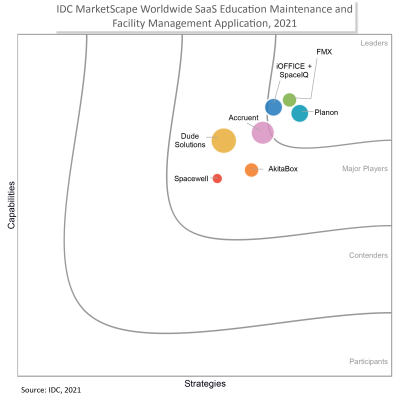 Planon was recently named a 'Leader' for its product capabilities and strategy for the education industry within the 'IDC MarketScape: Worldwide SaaS Education Maintenance and Facility Management Application 2021 Vendor Assessment' report.
The IDC MarketScape states that Planon customers gave positive feedback regarding the ease of technical integrations with Planon's campus management solution.
Planon was also recognised as having these three strengths:
Planon's Open Platform and ecosystem (Planon Universe is an open platform that can integrate with enterprise applications, vendor systems, and service contractors, as well as building management systems, IoT platforms, and sensors.)
Planon's digital visualisation capabilities (AutoCAD integration for 2D floor plans and BIM integrations for 3D modelling of interconnected assets.)
Global higher education expertise (Planon has a notable global higher education presence with over 150 institutions using Planon software around the world.)
The IDC MarketScape provides solid advice for education institutions looking for technology tools to improve their maintenance and facility management processes and notes that when evaluating technology vendors other 'important things to consider are customer relationships, configurability, capital planning, mobility, location intelligence, and IoT.'
Fill out the form get the Planon excerpt of this IDC MarketScape.
*Source: IDC MarketScape: Worldwide SaaS Education Maintenance and Facility Management Application, October 2021, IDC #US48145321 IDC MarketScape vendor analysis model is designed to provide an overview of the competitive fitness of ICT suppliers in a given market. The research methodology utilizes a rigorous scoring methodology based on both qualitative and quantitative criteria that results in a single graphical illustration of each vendor's position within a given market. The Capabilities score measures vendor product, go-to-market and business execution in the short-term. The Strategy score measures alignment of vendor strategies with customer requirements in a 3-5-year timeframe. Vendor market share is represented by the size of the circles.