Real estate and facility management costs typically represent over 20% of an organisation's costs. Integrated Workplace Management Systems (IWMS) are software solutions that enable executives and managers to reduce these costs significantly, while increasing business productivity.
Integrated Workplace Management Systems typically support business processes in Real Estate Management, Asset & Maintenance planning and control, Space & Workplace Management, Services Management, Project Management, and Sustainability Management.
The best integrated workplace management system is one where IWMS software is based on a single database platform, and where multiple business processes from all disciplines are interconnected. This ensures high quality management information, full compliance, and maximum monitoring and control.
IWMS - what you need to know
The shift from tailor made software to standard solutions
Along with the evolution of IWMS, the market demand for standard IWMS software has increased drastically. Project specific customisations and tailor made software have shown to be expensive, time consuming, and extremely hard to maintain. Business processes will change over time, so most organisations choose an Integrated Workplace Management System that is able to adapt to expanding needs within the standard software. Benefits of IWMS are numerous. Changes are not customised with special software, but are configured using the standard solution. This increases flexibility, reduces total cost of ownership (TCO) and ensures compatibility with new software versions.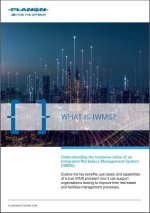 Explore our White Paper – 'What is IWMS' to learn more about:
A single software platform for real estate and facility management.
How it combines integrated functionality for the management of real estate, space planning, asset & maintenance, integrated services and sustainability.
Download a free copy of the white paper by filling out the form.
Request the white paper
'What is IWMS'


Learn more about Integrated Workplace Management Systems