June 7, 2021 – Planon is taking a further step in realizing its ambition of enabling connected buildings at scale with the acquisition of Axonize, the Israel-based developer of a market leading cloud-based IoT Platform. The acquisition strengthens Planon's market-leading position in smart building systems.
Axonize's Internet of Things (IoT) Platform will play a critical role in Planon's 360-degree building digitization strategy. Axonize complements Planon's "Open Platform" approach by providing out-of-the-box connections with smart devices and data sources across a plethora of vendors. Additionally, the acquisition supports Planon's strategic partnership with Schneider Electric and other strategic technology partners, fueling joint ambitions for the future.
The innovative IoT platform enables simple and fast connectivity, allowing for high volumes of devices to be connected and provides the scalability required for customers to deploy their IoT use-cases effectively and with increased speed.
The combined services from Planon and Axonize will enable the provision of digital twins, enhancing insight into asset and building performance and operations. With this acquisition, Planon also completes its suite of data services to include high-velocity IoT databases together with the associated data-based analytics.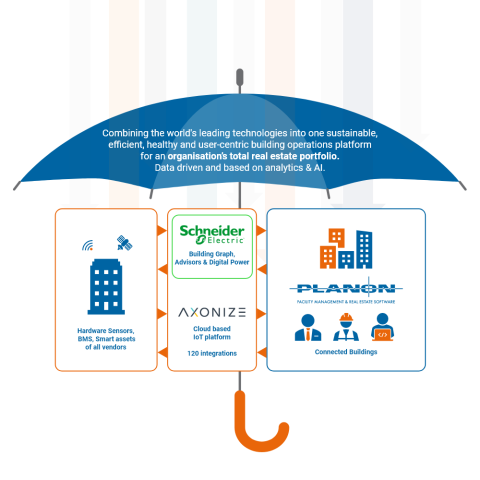 "Digitization around buildings and facility services will only continue to accelerate in the years to come," said Pierre Guelen, CEO of Planon. "Availability and secure access to reliable behavioral data is a key prerequisite for our customers in their digitization, automation and sustainability initiatives. With this acquisition, Planon has completed its software capabilities to fully serve customers in their digitization endeavors at the building portfolio level."
"We look forward to this next step in our journey, and we strongly believe that Planon will provide a great home for our customers, employees and technology," said Janiv Ratson, CEO of Axonize. "With the Planon acquisition of Axonize, we expect the growth of digital transformation in smart enterprises to be exponential. It will provide consumers with safer, less costly, more productive, and significantly optimized businesses. I'm confident that together we can successfully grow the entire notion of smart buildings, as well as smart business across the globe."
Terms of the transaction will not be disclosed. Catapult Advisors LLC acted as financial advisor to Axonize.