Throughout the industry, the realization is dawning that facility managers (FMs) can, and must, play a crucial role in promoting sustainability within organizations. Richard Gunpat is one of those many FMs actively taking on this challenge. When we recently spoke to Richard, a 2022 Eric Teicholz Sustainability Scholarship recipient, he shared his experiences and insights on various aspects of sustainability in facility management, shedding light on his projects, challenges, and future goals.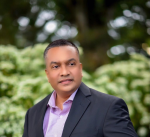 Richard's journey in facility management began after he graduated from the University of the West Indies with a degree in mechanical engineering in 2001. He then joined an energy consulting company, where he conducted energy audits and feasibility studies for commercial buildings and facilities in the Caribbean. It was during this time that Richard became acutely aware of the high energy consumption in these buildings, especially considering the exorbitant cost of electricity in the region. This realization ignited his passion for sustainability.

Richard then transitioned to the aviation sector, where he is now working as a mechanical engineer at the Airports Authority of Trinidad and Tobago, to provide technical oversight for aviation related equipment and systems.
Richard's dedication and hard work in the field of sustainable facility management were recognized when he received an IFMA Foundation Eric Teicholz Sustainability Facility Professional (SFP) scholarship. Reflecting on the impact of this recognition, Richard shared: "Being awarded this scholarship has been an absolute honor and privilege for me, and I'm very grateful to Planon for supporting the scholarship program as one of the corporate sponsors. I can truly say it significantly impacted my career in facility management, allowing me to broaden my knowledge. Before, I was heavily focused on energy management initiatives such as energy audits - which was of course inherent to my job. I've now really gained insight into the big picture in relation to the five pillars of sustainability: People, Planet, Prosperity, Peace and Partnership."
Leveraging technology
Asked about his sustainability projects, Richard reminisced about his recent big project in this field at the Airports Authority. "I took on the challenge of conducting a facility condition assessment, focusing on sustainability initiatives and the efficient replacement of end-of-life equipment feasibility studies. I highlighted integrating the legacy lighting system with the building management system (BMS) as an energy efficiency measure. This involved upgrading the light fixtures to energy-efficient LEDs and optimizing lighting schedules to maximize energy savings," he explained. "The aim was to achieve at least a 10% reduction in energy consumption, which would translate into substantial cost savings for the airport."
The project also saw to the expansion of the BMS to monitor and control various systems within facilities. This included monitoring emergency power systems; monitoring power meters by third parties, and remotely managing operational parameters. Although the project was eventually a success, like many other projects, it had its challenges. Reflecting, Richard said: "In almost all organizations, resistance to change can be a hurdle. To overcome this, I focused on highlighting the benefits of sustainability and the return on investment for the organization. By using our existing BMS technology as a leverage point, I was able to present the advantages of sustainable approaches to the C-suite."
I've now really gained insight into the big picture in relation to the five pillars of sustainability: People, Planet, Prosperity, Peace and Partnership.'

Richard Gunpat, 2022 Eric Teicholz Sustainability Scholarship recipient

Emphasizing the use of metrics such as facility condition indexes (FCNI), energy use intensity (EUI), and water use indexes (WUI), Richard added: "These metrics provide a baseline for assessing performance and identifying areas for improvement. But while energy and environmental sustainability are essential, facility managers should also consider building user well-being. Ensuring user comfort and a positive experience for building occupants and visitors is crucial. Smart building management systems can play a pivotal role in enhancing user comfort by providing efficient control of environmental parameters and optimizing the overall experience within facilities."
That said, we can safely conclude that implementing ESG and sustainability in your organization can be quite overwhelming. Where to start and what are some of the key areas or aspects that facility managers should focus on when it comes to these topics? "I believe facility managers should prioritize conducting facility condition assessments to gain a comprehensive understanding of their facilities," Richard stated. "This assessment serves as a foundation for developing sustainable initiatives and objectives specific to individual systems and equipment. Building on this, we can focus on deep retrofits and reduction of the carbon footprint of existing buildings. The aim should be to make sustainability an integral part of facility management and strive for continuous improvement in energy efficiency and environmental impact."
Continuous learning
To stay on top of these, and other industry trends and advancements, and make the most out of your role as an FM, Richard stressed the value of platforms like LinkedIn and professional organizations such as IFMA. "LinkedIn offers useful networking and learning opportunities, and is an important channel for finding interesting webinars and international conferences that keep FMs informed about the latest developments in facility management and sustainability.

IFMA provides communities, councils, and chapters that facilitate knowledge sharing and networking among professionals in the field. Attending conferences like IFMA's World Workplace can also provide valuable insights and allow the FM to stay updated with latest trends and technologies."
Also on a personal level, Richard expressed his goals and aspirations in facility management and sustainability. "I would love to obtain further certifications like Leadership in Energy and Environmental Design (LEED), Building Operations and Maintenance and be involved in more green building design and certification projects.
In addition, I will continue my volunteering for programs and committees of IFMA and other associations, as I believe that sharing knowledge and best practices, and giving back will bring much value to facility managers striving to build a more sustainable future together." At Planon, we fully endorse that statement, and are thrilled to see the tangible benefits of the first Eric Teicholz SFP Scholarship program come into practice. We look forward to Richard, the other recipients and young facility professionals in general, leaving a lasting impact on the field of sustainable facility management.
Are you a young FM professional and interested in applying for an Eric Teicholz Sustainability Facility Professional Scholarship? Learn more at https://foundation.ifma.org/students-academics/eric-teicholz-sustainability-scholarship/ Submissions for the 2023 programme are still open until 1 September, 2023.