You're leading a software selection process to choose a new operational solution for your facility services company. You've already compiled a list of requirements after assessing your existing processes and reviewing the existing systems your colleagues use to deliver services. Now, before going any further, you need to decide between a general enterprise resource planning (ERP) solution, with a one size fits all set of functions, or a facility services specific industry solution.
A general solution might be a tempting route to take. However, an industry specific solution will provide you with the specialized capabilities to support long-term operational process optimization and your firm's ability to flexibly meet evolving client demands profitably. Let's take a look at why an industry specific solution is the better choice for your business.
Valuing industry expertise
You may already use a general ERP solution for your accounting and invoicing. These systems are designed to excel at these functionalities. However, they may not be as good at supporting your colleagues with delivering a variety of facility services, across multiple clients – each with their own requirements and own real estate portfolios spread across multiple locations, regions or countries.
A facility services specific operations solution is an ideal way to help your colleagues excel at delivering the right services, at the right time with minimal friction. For example, a services delivery planner is able to optimize work scheduling based on real-time field technician availability and skills, available resources, and other service priorities to improve operational performance while reducing cost to deliver services.
In fact, analyst firm Verdantix finds that facility service providers can reduce service delivery costs 10% to 20% by automating the dispatch of the appropriate engineer to jobs. Similarly, Gartner finds that by using advanced scheduling, supply chain management and forecasting tools, a facility service provider can improve customer satisfaction and reduce cost per work order by improving the percentage of work orders where the technician has the appropriate parts, skills and tools to complete work on the first visit.
Select software configuration over customization
One of the many considerations you will have to contend with is whether you want to customize your software solution, or configure your software solution. Software customization requires extensive writing of computer code to force the software to support your business processes. This can be both time consuming and expensive, and can be likened to trying to fit a square peg into a round hole.
Software configuration, on the other hand, is just that, configuring the software through variable selection to fit your needs – it already supports your industry business processes. Configuration is quicker and less expensive in the long run. The Planon Accelerator implementation process is developed to help facility service providers get up and running through configuration of service delivery processes.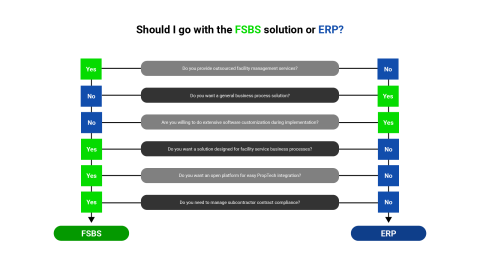 Scalable, future-ready facility service delivery
Facility service providers increasingly have to contend with complex IT and OT technology landscapes. To support existing technology demands and unknown future demands, facility service providers need a service delivery solution that enables them to easily integrate different technologies. For example, the Planon Facility Services Business Solution (FSBS) is extendable with any third-party solution for processes such as smart cleaning or facility asset performance monitoring and fault detection. Through the use of no or low code application deployment, new third-party solutions can easily be integrated into a facility service provider's operational processes to flexibly adapt to client requirements while maintaining quality service delivery operations.
Solution adaptability is important as it supports facility service providers adapting to new business models or services. Without the right tools, it can be difficult to maintain quality service delivery and performance monitoring to understand who is doing what, when, and the impact on invoicing.


Choose operational excellence
The software you choose should make it easier, faster and more cost-effective for your firm to deliver facility services. We have developed the Planon Facility Services Business Solution to do just that. Our solution, designed specifically for the facility services industry supports process efficiency with intelligent work planning, industry standard configurations with our Accelerator implementation environment, and is future ready with its open platform able to integrate any technology for services delivery. Visit the Planon Facility Services Business Solution page to learn more about how it supports facility service providers to achieve operational excellence.
If you are unsure about the difference between a Facility Services Business Solution and an Integrated Workplace Management System (IWMS), then stay tuned for our next blog in this series which will tackle the question, 'PFSBS or IWMS ?'.
As a facility service provider who is selecting a Facility Services Business Solution, you may be wondering how to select the right one for your business. Planon is happy to support you on this journey. Have a look at our brochure to learn about the key features and benefits of the Planon Facility Services Business Solution, request a demo or contact us directly with any questions you might have.