The Covid-19 pandemic has proven to be a time of significant change for businesses globally. Organisations, across most industries, have had to adapt, overnight, to remote and hybrid working and the technological tools and process changes that reduced the friction of implementing these new ways of working.
At the same time reports on climate change accelerated the increased focus on achieving business-related sustainability objectives, especially those connected to energy management and carbon reduction. Anyone involved in the operations and maintenance of real estate should take note, as the built environment is responsible for approximately 39% of global carbon emissions.
From 2020 to 2021, the United Nations sponsored Race to Zero initiative saw 2,162 companies, 708 cities, 571 universities, 127 investors, and 23 regions join its initiative which has a goal of supporting organisational objectives to reduce their own carbon emissions by 50% by 2030 and to zero by 2050. The Race to Zero initiative began in 2020.
Carbon reduction targets, and sustainability in general, have been growing in importance for businesses for some time now. Before the Covid-19 pandemic exploded onto the scene, KPMG surveyed the top 100 businesses across 52 countries for its Survey of Sustainability Reporting 2020 research. It found that 90% of these companies have publicly available sustainability reports and that of these, 65% disclose carbon reduction targets.
But, how will any of this impact facility services providers?
Global Carbon Emissions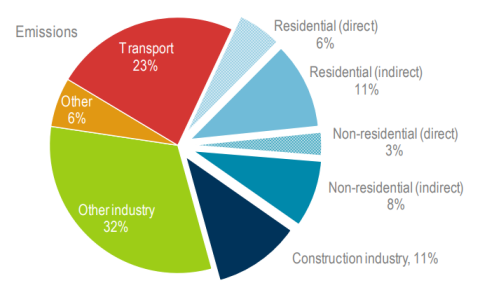 Source: Global Alliance for Buildings and Construction, 2018 Global Status Report
Sustainability is Smart Business
By now, we've all seen the statistic that buildings are responsible for up to 39% of global carbon emissions. This number can be further segmented into 28% for building operations and 11% for construction. This inevitably means that reducing facility carbon emissions will form a significant part of corporate carbon reduction initiatives. This is where facility services providers will play a significant role as corporate real estate teams look to them and their facility operations expertise to develop and implement the right strategies.
Facility services providers will be expected to support the development and implementation of sustainability strategies that mitigate the growing risk of legislative non-compliance, improve workplace health and safety, and reduce the risk of real estate value depreciation - a concern UK-based real estate investor, Nuveen, has already started to address across its portfolio.
Facility services provider expertise to select the appropriate tools, such as energy management, sustainable asset management or smart cleaning software, to achieve targets will be tested. Providers will also be tested on their ability to support clients with implementing workplace strategies to embed sustainability into corporate cultures and workplaces to improve employee experiences.
In short, facility services providers need to become real estate sustainability experts.
Culture is a predictor of change management success
The successful facility services provider will understand how to become a trusted sustainability partner to clients. A good way to develop this understanding is by implementing your own sustainability strategies. In this way, your team gains valuable experience developing and implementing sustainability strategies that can be applied to supporting client achievement of their own objectives.
Implementing sustainability will benefit facility services providers in other ways as well. For example, implementing a sustainable fleet management strategy, which includes automated and optimised work and route planning, will help reduce fleet carbon emissions while also reducing operating costs. In fact, a study by the Spanish Institute for Energy Diversification and Saving finds that a 10% reduction in fleet fuel costs (and associated carbon footprint) can result in a 31% increase in profits for fleet operators.
Successfully implementing sustainability is about enabling the people who will make day to day Facility O&M decisions with the ability to align those decisions, with the help of accurate and up to date data, to the appropriate sustainability objective. One way to do this is to embed sustainability within the culture of the facility services provider. This may also help to win more business as research from consulting firm Accenture finds that decision-makers are more likely to buy from companies that have a shared purpose with them – such as sustainability.
Ready for Now?
Sustainability is here to stay and is becoming more of a strategic requirement from clients of facility services firms. To take a deeper look into how sustainability services will benefit facility services providers with meeting client objectives, download our whitepaper: 10 Reasons Why Facility Services Providers Should Adopt Sustainability.