It seems like every year, a new digital solution is championed that can supposedly revolutionise your business. Over the last two years, Gartner has singled out hyperautomation as the next big thing. This innovative approach could deliver truly transformative business benefits, but only if organisations understand that technology is not the goal itself; it's about how to apply the technology to help (integrated facility management (IFM) service provider) companies achieve their goals, relative to the market growth potential.
According to a recent Frost & Sullivan report*, the global IFM market was valued at $92.05 billion in 2019. The report predicts that technology integration, the evolution of business models and the addition of service lines will drive continuous revenue growth in the years to come, with the market expanding at a compound annual growth rate (CAGR) of 6.1% between 2019 and 2026 to reach $139.39 billion. This growth is unsurprising as building owners & occupiers increasingly outsource their facilities management provision.
What is hyperautomation?
Put simply, hyperautomation involves the use of advanced technologies to automate processes and augment humans. It is related to the idea of automation but takes things a step further, making use of all the intelligent technologies associated with end-to-end connected automation (artificial intelligence, machine learning, advanced analytics, the Internet of Things, PropTech).
Hyperautomation can deliver significantly reduced costs and richer insights, and provide context-driven workflows. However, the market itself also faces challenges - including how businesses can choose the right solution from an ever-growing and evolving marketplace of products.
Building better
Hyperautomation promises benefits for a whole host of industries, from finance to healthcare and many more. As organisations ramp up their digitalisation strategies, the amount of data is set to increase markedly. However, through hyperautomation, data from thousands of different sensors can be combined, integrated, analysed and processed automatically.
Still, hyperautomation doesn't mean that human interventions will not be needed - far from it. With the right hyperautomated approach, employees can add genuine value to a company's operations, rather than engaging in administrative tasks. Hyperautomation is meant to support human workers; not replace them. For shareholders, change management teams, company innovators, and customers, hyperautomation delivers many value drivers.
Concrete value drivers for IFM
One audience, in particular, that stands to benefit from hyperautomation more than most is IFM service providers. How hyperautomation can revolutionise their work is evidenced by Planon Connect for (any) IoT. An example is Building Advisor, a native integration between Schneider Electric's EcoStruxure Building Advisor and the Planon Universe for Service Providers platform (IWMS/CAFM). This holistic proposition brings the best of both these platforms together, enabling connected AI/algorithms at every step - analysing and monitoring asset condition to identify possible inefficiencies.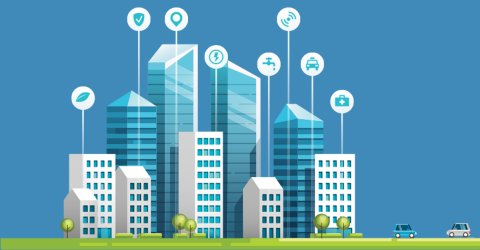 AI based analytics
Building Advisor can carry out digital twin asset repository analysis of a building asset to determine if there is an underlying fault or inefficient behaviour. For example, businesses may evaluate their electrical building grid e.g. (Building Management System) BMS connected lighting system, using AI-learning based analytics and find that its energy usage is falling outside of certain pre-configured parameters - even though it appears to be functioning correctly. Even better, as part of a hyperautomated platform it will automatically schedule a smart activity combined work order and allocate it to the right engineer to resolve via automatic resource scheduling algorithms.
AI based analytics can take contract constraints into account, which helps determine whether to provide a quotation win case outside of the contract scope, or give advice on eventual cost savings if corrective action is taken. Not only could this allow condition-monitored maintenance to take place before a system failure occurs, it also helps the IFM service provider both to better predict revenue and plan resource capacity to deliver the required services. As a result, this leads to explicit value creation for the building owners & occupiers due to significantly lower costs, reduced carbon emissions and prevented failures, all whilst increasing the end-user occupier experience.
It is evident that the IFM shareholder value will increase due to higher margins, being prescriptive and 'Poka Yoke' - first time right services which create a value proposition that benefits building owners and IFM service providers alike.
Poka Yoke

Poka Yoke is a mechanism that prevents employees from making mistakes. It originated in Japan and is used to organize processes in such a way that the same mistake cannot be made a second time.

Smart cleaning
Another example where hyperautomation can revamp your business processes concerns smart cleaning. As we move into a post-COVID world, office occupancy rates will fluctuate markedly. Rather than simply cleaning meeting rooms and other assets based on an arbitrary weekly rota (regardless of their usage), a hyperautomated approach to cleaning could employ IoT sensors to manage the cleaning process based on occupancy levels and employee work schedules.
An open Platform approach
The above examples bring obvious advantages for individual building owners, but for organisations with multiple offices spread across various countries, the cost and efficiency benefits can be enormous. Hyperautomation lets IFM service providers use data mining, prescriptive analytics and intelligent process automation to optimise existing processes and explore cutting-edge innovations.
In addition, because the Planon Universe for Service Providers platform is built using open principles and is vendor agnostic, our hyperautomation approach can manage many digital IoT and PropTech solutions. Not only can the Planon Platform be delivered and deployed in flexible ways; it is also open to third-party integrations. This means that when building owners or IFM service providers need to assess (their) specific (legacy) Building Management System with combined sensors and smart solutions, in order to be predictive (and prescriptive) around smart building assets, everything can be managed through the Planon platform.
Going beyond automation
Hyperautomation promises to streamline processes and generate new insights. Technology may not be the end goal, but hyperautomation might be just what your business needs to be able to realise the massive growth opportunity and exceed customer expectations.
*Frost & Sullivan, Global Integrated Facility Management (IFM) Market, Forecast to 2026. June 2020