Table of Contents
IoT: A key technology for smarter buildings and business processes
The future of facility management and building operations is IoT-enabled. In fact, IoT (Internet of Things) is needed to continue to deliver on core business requirements: providing the best facilities, campuses, workspaces, and related services to offer highly efficient, superior user experiences and ease property management. IoT is not changing the main goal of facility service providers and building managers, it is simply offering new and exciting ways to get there.

However, IoT is just one piece of the puzzle as organizations move toward enabling and maintaining smarter, more sustainable buildings and business processes. To understand the depth of added value that IoT can bring to real estate and facility managers, one must also look at how IoT fits into a bigger technology landscape that includes terms such as smart buildings, Digital Twins and integrated workplace management systems (IWMS).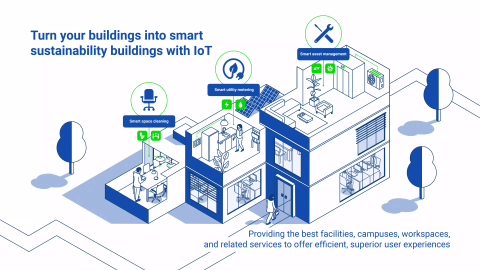 Defining the relationship between IoT & Digital Twins
So, what is the 'Internet of Things' (IoT)? Gartner, the world's leading information technology research and advisory company, defines it this way:

"The Internet of Things is the network of dedicated physical objects (things) that contain embedded technology to sense or interact with their internal state or external environment. The IoT comprises an ecosystem that includes things, communications, applications and data analysis."

But, what does this mean for facility and building operations? How do you create value with the abundance of data you can now collect from your buildings and assets through sensors & IoT? That is where the concept of digital twins comes into play. The National Digital Twin Programme in the United Kingdom provides the following definition for Digital Twins:

"Digital twins are realistic digital representations of physical assets that can be used to monitor and predict performance, feeding out insights and interventions. These insights lead to better interventions and unlock real-world value from assets through financial savings, improved performance and services, and better outcomes for society."

Therefore, a Digital Twin is a real-time realistic digital representation of something physically existing in the real world such as a building, asset or an office space. And the ability to test and predict things using the digital twins versus the actual physical asset is where facility and building operation teams can lean into innovation – and save time and money – without interrupting the service and performance of the actual physical assets.


What are the main components of an IoT solution?
A typical IoT solution for smart buildings contains three main parts:
The IoT edge is where sensors and devices communicate real-time data to a network. This is where the data is sampled and collected from.


The IoT platform is where the IoT-services are managed from. These services include device monitoring and time-series data storage, decision automation, business logic and analytics on data.


The business domain represents the business applications and related processes you want to enrich with IoT data to accomplish business objectives.
The main areas for deploying IoT technologies include

Smart building operations
Strengthen your maintenance management strategy by operating building assets in their window of performance and identify the need for interventions in a timely manner. The ability to move past reactive maintenance can result in cost savings and demonstrable compliance.
Energy monitoring
Support your organization's decarbonization strategy and enable compliant reporting with detailed insights into energy and water consumption. Turning to IoT enabled submetering technology will support data-driven decision making.
Workplace experience
Improve the health, well-being, productivity and satisfaction of building users while operating your facility management services cost-efficiently. Examples where you can implement workplace IoT for improved experience are: indoor air quality control, occupancy monitoring and activity-based cleaning.
The endless possibilities of IoT for smart buildings
For Real Estate and Facility Management there are many potential areas of application for IoT technologies:
The benefits of an IoT-enabled IWMS Platform
Unlocking new business value from the Internet of Things goes beyond connecting devices. It's about gaining new data-driven insights that drive actions from IoT data, which enables your business to deliver innovative services and make quicker, more informed decisions.
However, as organizations begin to launch new IoT initiatives and deploy more and more IoT sensors, important questions may arise: How do you manage all these new initiatives? And how do you gain and maintain control over what is going on in your buildings? What do you do when your scope expands?

This is where a platform approach to managing all IoT initiatives can be extremely helpful. Choosing a platform can be advantageous, especially when you go beyond the level of point solutions and have a need for simplified management across buildings and integrated insights at a business level.
The Planon Platform is fully IoT enabled and will support you in aggregating and analyzing the massive amount of IoT data captured across all IoT initiatives and automate business responses to events.

The ability to connect all your IoT together and view on a single dashboard opens the door to new opportunities for data-driven insights around optimizing your building operations, driving better workplace experiences, and providing you with the tools and reports you need to prove you are in control.

Interested in our IoT-enabled solutions?
Evaluate and select IoT solutions that meet your needs
The journey to effectively utilizing IoT is different for every organization. When beginning your IoT project, it's important to define and focus on the information you want to optimize and the business goals that need to be achieved, instead of just implementing the technology for technology's sake. Because organizations can start utilizing IoT from very different perspectives, the following principles are important in selecting Internet of Things solutions:
Simplicity: The process of connecting sensors, creating rule automation, and maintaining control of all IoT must be simple and manageable.


Scalability: It may be valuable that you can scale at own pace, and it is important that new data streams do not lead to performance drops for the users of the IWMS system or the general IT network, despite thousands of new sensors operating in real time.


Security: A thousand sensors can potentially lead to a thousand security issues. By choosing the right network and sensors, you can reduce these risks.


Single pane of glass: integrated solutions with automated business controls enable you to gain value from IoT at business domain level versus point solutions that may have strong capabilities for a specific business domain.


System agnostic: There is great diversity in the type of technology and solutions around the portfolio of buildings. Think of elevators, escalators, HVACs, building management systems, smart bins, smart desks and so on.
Learn more about the Internet of Things