The expanding role of facility management
With digitalization and the growing demand for smart building technologies, the scope of facility management is expanding. A recent IDC MarketScape report on SaaS facility management application vendors recommends that organizations look for vendors that can provide CAFM capabilities beyond maintenance management and find a solution with capabilities that expand into workplace management functionalities, such as space management, service delivery, event management, visitor management, lease administration, capital planning, and energy and sustainability.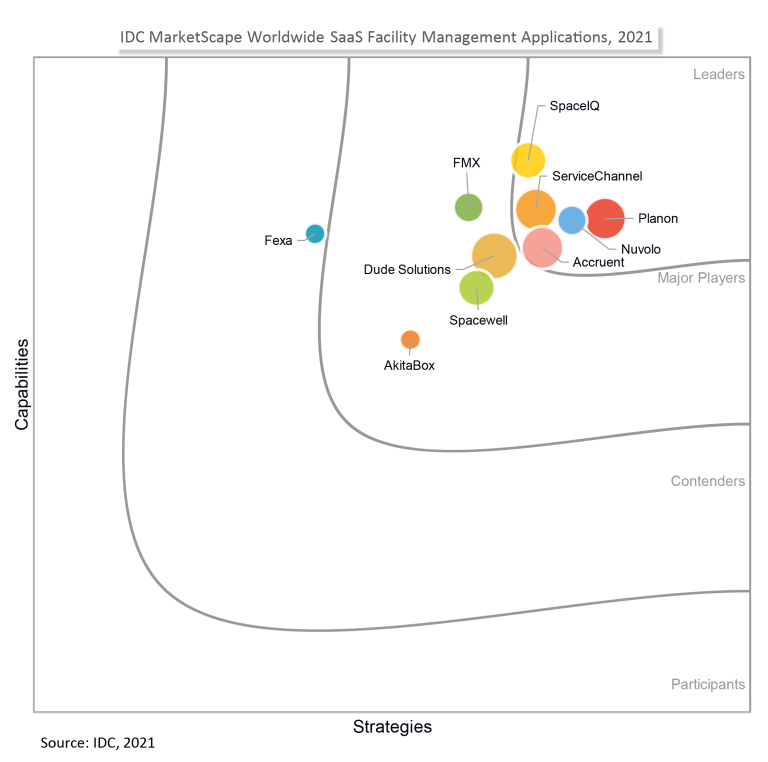 The "IDC MarketScape: Worldwide SaaS Facility Management Application 2021 Vendor Assessment"* also states that organizations should be thinking about their long-term facility management strategy and how their needs may change as the scope of facility management continues to expand with digitalization and smart building technologies. When it comes to building a relationship with a SaaS integrated facilities solution provider, the IDC MarketScape notes that organizations should evaluate a vendor's customer relationships, configurability, mobility, location intelligence, IoT, and long-term vision.
For even more insights, you can fill out the form on this page to download a copy of the IDC MarketScape excerpt on SaaS Facility Management Applications for free. What you'll find in this excerpt:
The IDC MarketScape defines three critical steps organizations should take to choose the right integrated facilities management solution
Access to 20+ scoping questions to help you define your organizational strategy and needs before choosing a SaaS facility management solution
Learn how your organization's strategy and goals can be supported by Planon's integrated facility management solution and future-proof strategy
Why Choose Planon for your CAFM Needs?
Within this IDC MarketScape, Planon has been positioned as a "Leader" for SaaS facility management solutions based on the depth of its CMMS capabilities and the strength of its strategy, roadmap, and vision for the future. The IDC MarketScape highlighted Planon's strengths:
Planon's Open Platform and ecosystem (Planon Universe is an open platform that can integrate with enterprise applications, vendor systems, and service contractors, as well as building management systems, IoT platforms, and sensors.)
Planon's digital visualization capabilities (AutoCAD, BIM, Digital Twin Models, and more)
Planon's Global Reach (14 office worldwide; product available in 12 languages)
Download the excerpt to learn more.
*Source: IDC MarketScape Worldwide SaaS Facility Management Application 2021 Vendor Assessment, by Juliana Beauvai, 2021, IDC #US47987021 IDC MarketScape vendor analysis model is designed to provide an overview of the competitive fitness of ICT suppliers in a given market. The research methodology utilizes a rigorous scoring methodology based on both qualitative and quantitative criteria that results in a single graphical illustration of each vendor's position within a given market. The Capabilities score measures vendor product, go-to-market and business execution in the short-term. The Strategy score measures alignment of vendor strategies with customer requirements in a 3-5-year timeframe. Vendor market share is represented by the size of the circles.