Pandemic Response Resources for Planon Customers
During this COVID-19 crisis, much is being asked of real estate and facilities teams. Many of our customers are tasked with supporting and implementing new safety measures and processes to adapt to the 'new normal'.
Our highest priority is to support you as Planon customers during these challenging times and provide you with the latest information and use cases within Planon software, to help you and your teams address your changing real estate and facilities needs.
Watch this video to hear from Planon's CEO Pierre Guelen and our Solution Director for Corporate Real Estate and Facilities Management, David Stillebroer as they walk you through some examples of Planon Use Cases that you can configure in your IWMS solution today to support your workplace re-entry strategy.
Supporting you in every phase
Real estate and facilities teams play a major role in every phase of the crisis cycle. Below you see a chart of what we've seen so far. Organizations have had to adapt to the cancellation of office activities and support their employees by enabling them to work from home. Organizations have leaned on their facilities teams to keep business critical facilities and processes in place. Now we are entering a time where the focus is shifting to business recovery and Planon is here to support you and your teams as you create and launch a workplace re-entry strategy.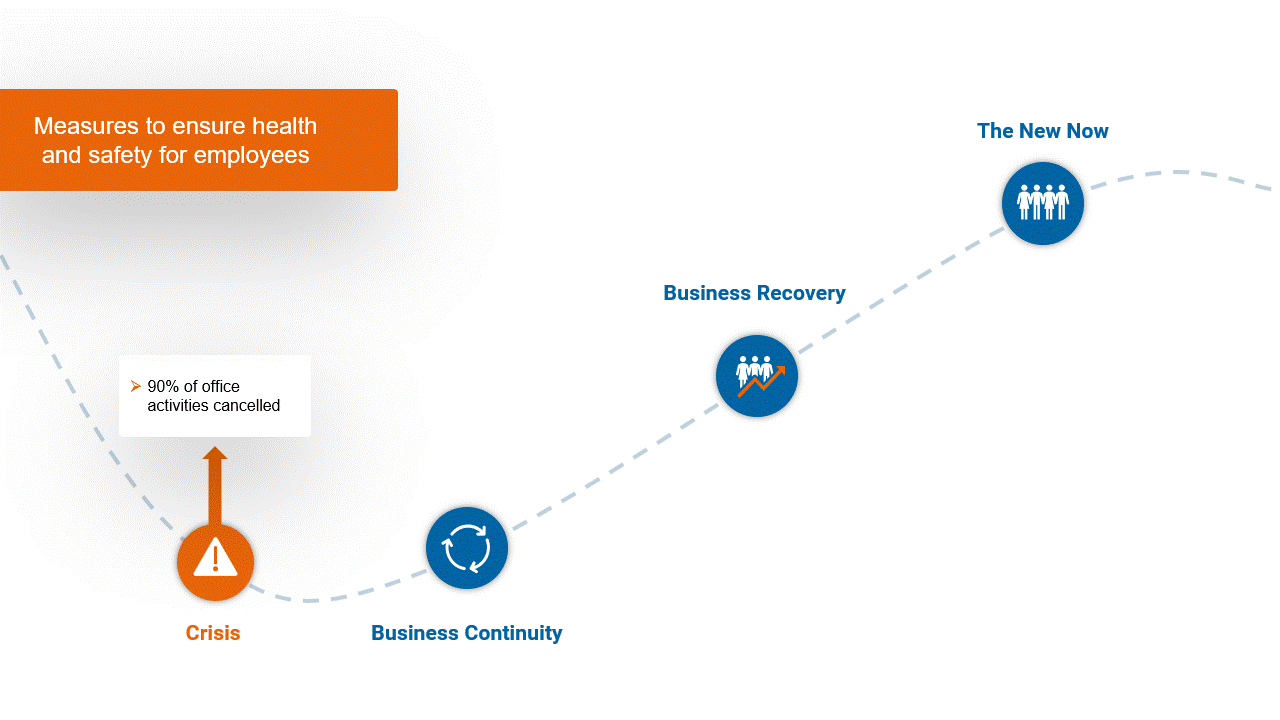 Pandemic response resources
Business continuity with Planon Remote Lifecycle Services
We are proud to be your trusted partner in providing high-quality lifecycle services for your Planon solution. Planon is also experienced in delivering these services to you remotely. To ensure the success of these customer projects, Planon utilises the Planon Remote Implementation Method (PRIM), which echoes our proven project methodology, AIM – Accelerator Implementation Method. Our comprehensive Remote Managed Services is also available for all functional, application, and technical management activities.

The Planon Remote Implementation Method (PRIM) and Remote Managed Services consists of processes and tools that enable us to deliver services to you on-time, within budget and within the agreed scope and deliverables.

You can benefit from Planon's Remote Services in these key areas:
Your business continuity: services are time-and-place-independent
Cost savings: no travel costs, no expenses, and optimised planning
Sustainability: supports 7 of the UN Sustainable Development Goals, including decrease in carbon emissions, no travel risks, and better work-life balance
Agile way of working: highly scalable and flexible composition of services
"So far, we have participated in serveral Planon workshops online, both in the explanatory phase and in the specification phase. We are very satisfied with the results and the process."
- Markus Möller, Project Manager CAFM, B. Braun Facility Services GmbH & Co KG
Remote Services Resources

Planon Connect for Analytics: reports, dashboards, BI and analytics at your fingertips
In 2019 Planon released a new connector that allows seamless and straightforward integration with BI and analytics tools like Microsoft Power BI, Tableau or Qlik. For customers, this means you can simply use the tools you already have to create reports and analysis across all Planon solutions. Since the initial launch, Planon has configured a series of practical examples, including COVID-19 reports, that are freely available to you.

Watch this video to learn how easily you can connect your existing BI and analytics tools with Planon Universe, design your own reports and dashboards, and view examples.

Interested in a free trial? Contact your account manager today.
Expand your knowledge