~ Planon announced it has been identified as a strong solution provider in the IWMS space ~
15 April, 2019 - Planon has again been recognised as a strong solution provider in the global IWMS software market by being named a "Leader" in the Verdantix 2019 Green Quadrant® Integrated Workplace Management Systems (IWMS). Planon is a market-leading vendor of innovative software that supports corporate real estate, facility managers and service providers in optimising their business and workplace performance.
This year the report highlighted several key strengths of the Planon platform, specifically recognising its value for end-to-end real estate management, strong footprint in the higher education sector, and strong functionality for facility management service providers.
A new aspect that was evaluated by Verdantix in 2019 was vendors' ability to support facilities services providers. According to the report, the scale of its customer base has enabled Planon to develop considerable specialist functionality to support the needs of facilities services providers such as customer relationship management and scheduling workforces across multiple clients. "With a growing track record and specialist capability, facilities management firms looking for an integrated platform to improve client interactions and staff productivity should further review Planon Universe for Service Providers", concludes Verdantix.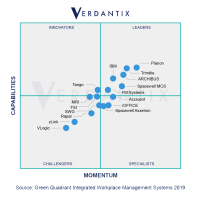 "We have invested heavily in diversifying our product portfolio to match the evolving needs of our clients and their customers. It is refreshing to see that Verdantix has validated Planon's solutions as some of the strongest in the market," said Pierre Guelen, CEO of Planon. "I am especially proud of the assessment of our ability to support facilities services providers in their core business processes."
One reason for Planon's success in this market is a continued focus on market research, customer collaboration, and technology partnerships. For example, Planon is currently conducting research into the role of artificial intelligence in optimising operations for FM service providers.
Verdantix – an independent research and consulting firm with a focus on innovative technologies that optimise business operations – compiles this IWMS solution benchmark every two years, assessing the major vendors according to the capabilities of their software applications and the strength of their momentum in the market.
In compiling the Green Quadrant, Verdantix looks at strategic success metrics including vision and strategy, installed customer base; organisational and financial resources. The Green Quadrant also assesses capabilities like IT systems integration, business intelligence, user interface, mobile apps, configurability, and enterprise reporting.