Today, so many of our experiences are interconnected. Digital tools have meant that whether you are going for a run, adjusting your thermostat, or browsing the internet, the data you create during one experience has relevance to another.
It should come as no surprise then, that Gartner identified Total Experience as a top strategic technology trend for 2022. Total Experience occurs at the intersection of client experience, user experience, and employee experience as facilitated by multi-experience (multi-touchpoint) technologies.
Total Experience is about more than technology, however. At its core, it leverages a combination of people, technology, and process strategy to flexibly meet evolving business requirements. Gartner's research finds that the top two reasons for pursuing digital initiatives are to enhance customer experiences and to improve employee productivity. According to Gartner, a Total Experience strategy will help businesses achieve these two objectives simultaneously. With its focus on people, technology, and process, Total Experience is an ideal strategy for IFM Service Providers seeking a lever to grow their business.
But why is Total Experience generating so much excitement? The answer lies in the way it supports the creation of value across all facets of a business. By 2024, organizations providing a Total Experience will outperform their competitors by
25%
in satisfaction metrics for both customer experience and employee experience. To understand why, it's important to look at the theoretical basis for Total Experience.
The business theory underpinning Total Experience
In the early 1990s, two business theorists, Robert Kaplan and David Norton, came up with a new model for measuring business performance, related to four relevant business perspectives: the Balanced Scorecard. The idea behind the Balanced Scorecard was to align business activities along four axes: Financial; Customer; Internal Processes; and Innovation/Learning & Growth.

When it comes to embracing Total Experience, the Balanced Scorecard helps to unravel and explain how the client experience, user experience, and employee experience are all interconnected and underpinned by multi-experience communications.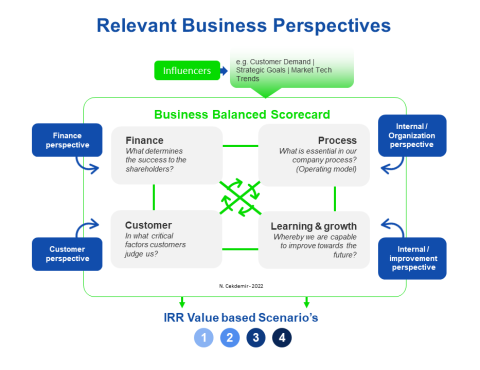 Financial
From the perspective of shareholders and finance personnel, Total Experience is important for several reasons. Integrating various services that have traditionally been managed separately can deliver cost reductions and increase workforce capacity without the need to hire additional employees. For example, IoT solutions can automatically adjust HVAC output based on capacity to provide more efficient operating models and management of sustainability performance.
Optimized processes can increase margins, while end-to-end jeopardy management can assess and anticipate risks. Process mining analytics can identify opportunities for further business development due to controlled and actualized data. As much as 80% of the cost of a building's life cycle arises during usage. Total Experience aligns and optimizes this usage across all areas of the business - for employees, customers, and finance leaders.
CustomersEmbracing Total Experience can increase customer and employee engagement within service offerings and self-service business processes. Tangible customer Total Experience interactions may include multi-sensory and multi-touchpoint interfaces like wearables and advanced computer sensors. New services accessible via multi-touchpoints like kiosks and digital panels can enhance customer and employee engagement. Multi-touchpoints also enable customers and employees to proactively improve their awareness of achieved energy and sustainability performance versus ESG guidelines or their employers promised goals.Instead of fragmented communication channels, every engagement is connected, allowing for a holistic customer service experience where businesses don't just meet customer expectations - they exceed them. What's more, by breaking down business silos, Total Experience improves the visibility of customer service. This, in turn, leads to higher levels of transparency and traceability, which can also lead to further service improvement.
Internal processesTotal Experience comes with the ability to drive continuous process improvement. By delivering integrated, harmonized processes, aligning company culture and structure, and prioritizing outcome-focused process support, Total Experience awareness can help businesses meet their strategic goals. Rather than disconnected teams working towards unrelated, perhaps even contradictory aims, Total Experience depends on creating an end-to-end digital business. Whether it's through the use of advanced analytics, intelligent process automation (IPA), Hyperautomation or business process outsourcing (BPO), the Total Experience model can empower businesses to redesign their processes in a more interconnected manner.
Innovation
Accepting the status quo is a sure-fire route to failure. With Total Experience, businesses gain the ability to innovate in new ways. Technologies like augmented reality platforms, blockchain and digital twin solutions not only unlock new insights around existing business processes - they enable businesses to explore unforeseen opportunities. With Total Experience, data from customers, employees, partners, and other stakeholders are joined together. This enables prescriptive analytics to help organizations foresee challenges and solutions.
Total Experience is an opportunity for (IFM) Service Providers
Implementing a Total Experience strategy can deliver a competitive advantage for Integrated Facility Management (IFM) service providers. For example, it supports providers with engaging the end users of their customers within their service delivery process to get more visibility.

Total Experience is no longer seen as 'a nice-to-have' - it is essential. To stay ahead of their competitors, IFM service providers are expected to consistently produce new, more visibly diverse service offerings to support their customers, services end users, and themselves with achieving an exceptional facility Total Experience.

Creating value-based business case scenarios
It's important to remember that Total Experience does not simply mean looking into solutions that relate to the four areas mentioned above. Like the concept of Total Experience itself, Kaplan and Norton's Balanced Scorecard demonstrates how various performance measures or perspectives (Finance, Customer, Internal Processes, and Innovation) are all causally connected. A clear Total Experience strategy for IFM service providers needs to be defined with period-based focus areas in order to define business case scenarios based on Internal Rate of Return.

Total Experience is rightly seen as a gamechanger in the business world because it can not only optimize existing processes but is capable of supporting the creation of new value-based service offerings and business case scenarios. Individually, your services may be excellent, but if they aren't communicating the full 360 degrees with each other, they won't be delivering optimal results for employees, customers, or other stakeholders. Total Experience connects all the dots.

Providing Total Experience is the new industry demand. Read this e-book and gain valuable insights from Frost & Sullivan, IFMA, Honegger, Atalian and EY,as these experts explore the role FM service providers play in designing the experience of the built environment around the needs of the people who live in, work in, and enjoy it.